Blog
Chocolate Spice Crackle Cookies Recipe
Simple cookies with a bit of a bite, these chocolate spice cookies from epicurious are crackly on the outside and soft on the inside. Low in both calories and fat, you can enjoy relatively guilt-free! Mix these into your cookie box order for a filler cookie that will sneakily become the dark horse treat to beat this holiday.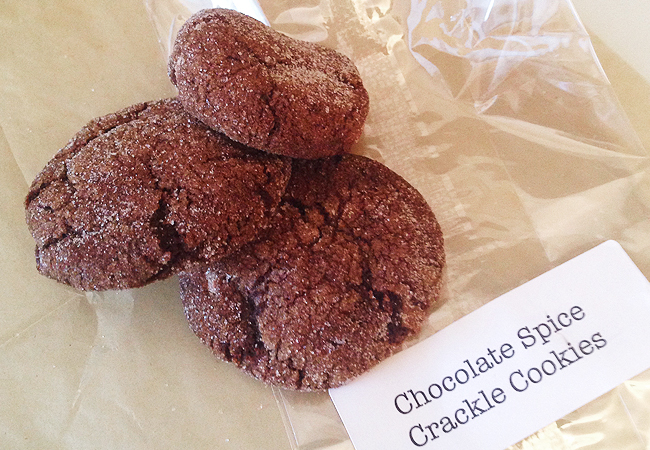 Chocolate Spice Crackle Cookies
Makes about 36 cookies

Ingredients:
1 1/2 cups all-purpose flour (spoon flour into dry-measure cup and level off)
1/3 cup alkalized (Dutch process) cocoa powder
2 teaspoons ground cinnamon
1 teaspoon ground ginger
1 teaspoon baking soda
1/2 teaspoon ground cloves
1/2 teaspoon salt
4 tablespoons unsalted butter, melted
1 cup sugar
1/4 cup unsweetened applesauce
1/4 cup molasses
2 cookie sheets or jelly-roll pans lined with parchment or foil
Instructions:
1. Set racks in the upper and lower thirds of the oven and preheat to 350 degrees.
2. Sift the dry ingredients into a bowl and set aside.
3. In another mixing bowl, beat the butter and sugar together with a large rubber spatula. Beat in the applesauce and molasses. Stir in the dry ingredients to make a soft dough.
4. Drop tablespoons of the dough (or use a small ice cream scoop) an inch apart on the prepared pans.
5. Bake the cookies for about 10 minutes, changing the position of the pans about halfway through the baking. Exchange the top pan and the bottom and also turn them back to front at the same time. The cookies will still be fairly moist when they are done. Avoid overbaking them or they will be dry and hard.
6. Slide the papers from the pans to racks to cool the cookies.